Careers & Enterprise
Careers & Enterprise
Welcome to Madani Careers
At Madani we are committed to preparing students with the knowledge and skills necessary to make informed choices about their future. Our aim is to promote a range of pathways and provide our students with the support they need to make the transition to the next stage in their education and training, and ultimately, to contribute positively to society and the world of work.
Students will need to make several key decisions during their time at Madani and the school and our careers programme prepares students for these choices through a range of activities. During their five years at Madani, students are entitled to:
A careers education programme which is built into the Life Skills curriculum and developed through a programme of events across key stage 3 and 4
Access to Unifrog online careers development website
Access to and explanation of: national, regional and local labour market information (LMI)
Access to a Careers library with up to date information regarding opportunities in further education and apprenticeships, higher education, training and employment
Support with GCSE options choices
A one week work experience placement in Year 10
Access to PS16 and post 16 applications support
At least one session with an independent careers advisor before the completion of post-16 applications
Students can get help in preparing to make important decisions from all teachers at the school and from their form tutors, but the main points of contact for careers support at Madani are
Assistant Head for Personal Development: Ms M Chopdat
Careers Leader: Ms N Salah (careers@madani.leicester.sch.uk )
Careers administration: Ms H Sarang
Careers Advisor: Ms Barbara Chantrill MBE (Leicestershire Enterprise Business Company)
Librarian: Ms A Khalifa (for guidance with the Careers library)
Heart for Life Head of Department: Ms N Salah
Enterprise Advisor: Mr Carl Roberts (CR Engineering)
Careers Governor: A Esat
Careers at Madani Schools Federation
Labour Market Information: Information about employment trends, sector growth and live apprenticeships in Leicester, Leicestershire and the East Midlands. (Click the image below for more information)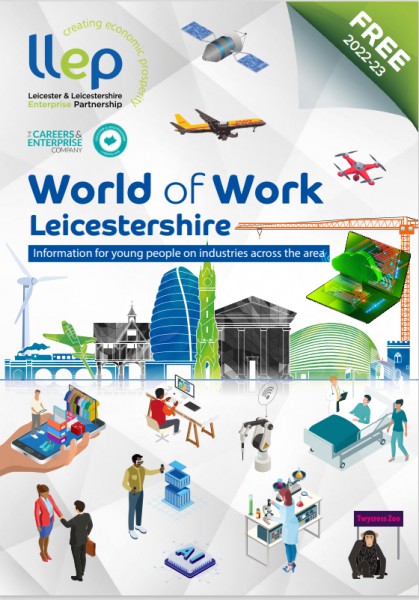 Link: LLEP WORLD OF WORK LEICESTERSHIRE
Madani Schools Federation NCW Champion scheme 2022/23
Madani Schools Federation NCW Champion scheme 2022/23
Please follow the links below to find out more about the Careers offer at Madani
https://www.ps16.co.uk - – the link to this website is on the school website under student logins. You will be using this website to apply for college courses next year.
www.ucas.com – this website is used when you apply for University but it also has information regarding work and apprenticeships
https://www.gov.uk/apply-apprenticeship - this is where you will find all of the apprenticeships listed from across the country. You can also apply for these vacancies via this website.
https://www.informedchoices.ac.uk/ - Informed Choices is a useful website if you are considering going to University and want to research where subjects you can take at A Level will lead to.
Employers
We need you! Click here for more information
Local employers, businesses and professionals – we need your expertise! At Madani Schools' Federation we are busy growing employees of the future. We highly value local businesses input to help raise aspirations, to develop employability skills and to learn more about the exciting industries in Leicester and Leicestershire to better prepare our students for their future in the world of work. If you would like to support our students on their Career journey, please contact;
Careers Leader- Ms N Salah
Careers Admin – Mrs H Sarang
Email: careers@madani.leicester.sch.uk
We will be in touch to discuss ways in which you can make a real difference to our students.
The Careers & Enterprise Company
We have the benefit of a key business volunteer who works with us on a strategic level to help develop our Careers programme and connect us to the Business community. This role is nationally recognised as an Enterprise Advisor, and they are part of the Leicester and Leicestershire Careers hub community of support. They would be delighted to talk to you about ways in which you can support our Careers
Looking for more information? Please follow the links below
September 2023
| M | T | W | T | F | WE |
| --- | --- | --- | --- | --- | --- |
| | | | | 1 | 2 |
| 4 | 5 | 6 | 7 | 8 | 9 |
| 11 | 12 | 13 | 14 | 15 | 16 |
| 18 | 19 | 20 | 21 | 22 | 23 |
| 25 | 26 | 27 | 28 | 29 | 30 |